CO 10: Brands Shortlist
1 / Directional Brands
Fashion brands excelling in design and driving an aspirational aesthetic for sustainable fashion.
A collective fusion of the finest certified natural or recycled materials and pure, geometrical silhouettes inspired by design, architecture and Eastern philosophies; BAV TAiLOR clothing represents true hallmarks of authentic 100% Made in Italy and Eco-Sustainability in the brand ethos.
Mara Hoffman founded her label in 2000 after graduating from Parsons School of Design in New York City. Fifteen years later, the brand committed itself to implementing more sustainable and responsible practices. In an effort to foster mindful consumption habits, the brand maintains an open conversation about its approach and encourages consumers to reevaluate the relationship society has with clothing.
Osklen is a contemporary brand committed to a 'As Sustainable As Possible, As Soon As Possible' philosophy, constantly evolving ways to enhance the sustainability scope of the brand, supported by Instituto-e, a non-profit organisation dedicated to sustainable development.

Founded in 2001, Stella McCartney's eponymous brand has been committed to operating a modern and responsible business with animal welfare at its core for nearly two decades. A signature style of sharp tailoring, natural confidence and sexy femininity is supported by supply chains that aim to minimise harm on the global eco-system.
Deborah Milner has been working in couture since 1991 alongside several leading names in fashion, including 8 years as a couture consultant at Alexander McQueen. Her latest collection highlights the sustainable ethos behind her brand, choosing natural dyes and sustainable products wherever possible, working with highly skilled experts and ecologically minded manufacturers to bring her vision to life.
MAGGIE MARILYN,
New Zealand
Maggie Marilyn is a New Zealand based fashion brand that launched in September 2016. A combination of strong tailoring and youthful charm, the Maggie Marilyn collections are delivered with a sense of confidence and modern luxury, taking into consideration the ethical and environmental impact of contemporary fashion.
Established by Christopher Ræburn in 2010, the RÆMADE ethos has pioneered the reworking of surplus fabrics and garments to create distinctive and functional pieces. Collaborations with Finisterre, Eastpak, Timberland, Disney, Palladium, and more - are bringing this unique luxury aesthetic to a global audience.
2 / Apparel Brands
Fashion businesses with broad consumer appeal and potential to deliver significant supply chain impact.
CONTINENTAL CLOTHING CO., UK/India
Continental Clothing Company is a multi-award winning manufacturer and direct wholesale distributor of ready-to-print t-shirts, sweatshirts, childrenswear and accessories. Since 1994, their focus has always been on creating high quality, expertly styled garments for markets such as fashion retail, music merchandise, leisure and corporate promotions.
GOOD ON YOU, Global
(Brand Ranking App)
Good On You is the most comprehensive brand ratings system and online discovery platform for fashion. Their rating system aggregates existing standards, certifications and public company data into a simple, accessible 5-point score. Over 200,000 shoppers are now using the Good On You app to access 2,000+ brand ratings and discover better fashion.
MANTIS WORLD, UK/Tanzania/Bangladesh
Mantis World is an award-winning white labelling apparel company with ranges for adults, kids, and babies to the imprintables industry. Since 2000 they have been demonstrating that commercial, large volume manufacturing can happen in a sustainable manner with care to everyone in the supply chain.
MUD Jeans is a circular denim brand, made from a combination of organic and recycled denim. The brand collaborates with their denim mill partner in Tunisia to develop the most resource-efficient systems and innovative denim production processes, such as laser techniques that replace hazardous chemicals and reduce environmental impact.
Outland Denim crafts premium denim jeans designed to bring the worlds of their seamstresses and customers closer together. Outland sources the finest raw materials from around the world while offering sustainable employment and training opportunities to women rescued from human trafficking and sexual exploitation.
Founded in 2003, Finisterre set out to provide British cold water surfers with product that is fit for purpose, sustainably sourced, responsibly-manufactured and built to last. 2019 goals include eradicating single-use-plastic from their operations and moving from 67% to 100% organic cotton.
For more than 20 years, INDIGENOUS has been obsessed with creating a culture of caring and is dedicated to changing the fashion industry for the better. As a leader in sustainable and ethical fashion they are committed to creating a better world for everyone who makes their clothes, and for everyone who wears them.
Mayamiko is an ethical and sustainable brand, producing clothes, accessories and homeware, made in their ethical workshop in Malawi. The brand takes a zero-waste approach to its cross-seasonal designs which are inspired by artisanal traditions.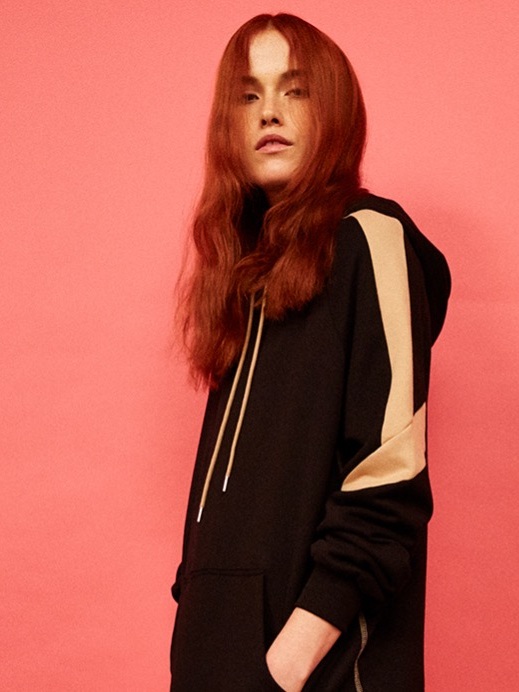 Ninety Percent is a London-based womenswear label launched in 2018 that's trying something new: sharing 90% of their distributed profits between charitable causes and those who make their collection happen. Their customers decide where the money goes and help them start a consumer movement that empowers makers and wearers.
People Tree has led the Fair Trade movement since its inception in 2001, offering design and technical training to marginalised artisans and craftspeople. The brand's clean lines and modern design as well as collaborations with leading names such as Emma Watson and the V&A Museum in London brings Fair Trade clothing to consumers around the globe.
3 / Accessories & Jewellery
Fashion brands delivering impact through accessories or jewellery design.
ABURY is pioneering fashion by combining traditional, old world crafts with avant-garde design to create a new luxury style that preserves traditional crafts and fosters intercultural exchange. The collections bring together inspiring design and artisanal craft to deliver timeless, authentic luxury.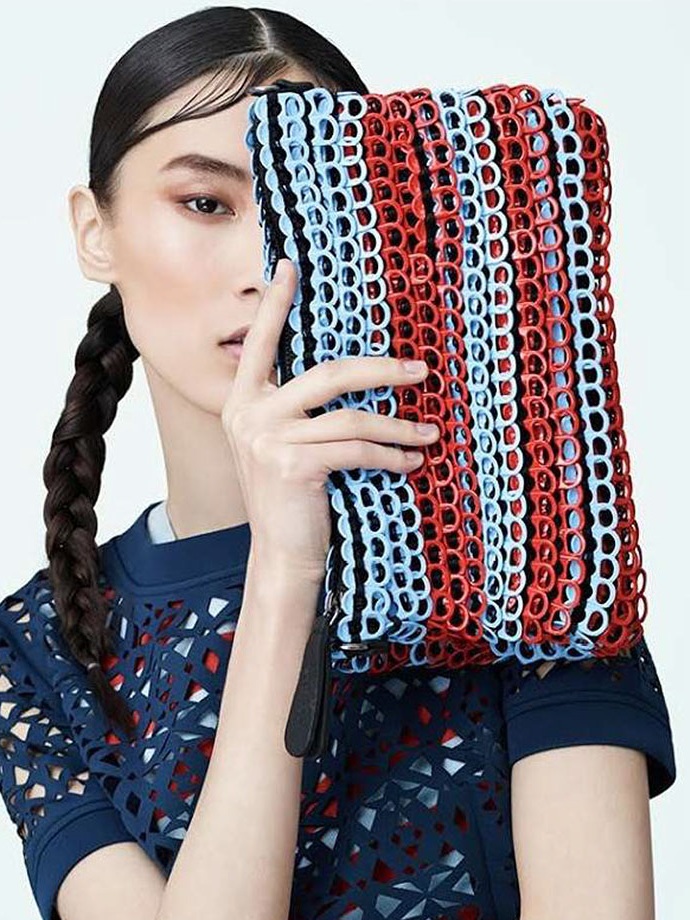 Designs by Bottletop are works of art, treasured by both the craftsman and customer alike. The creation of Bottletop products not only enhance the techniques of some of the most highly skilled artisans from around the world but their training programmes enable others to join them, supporting themselves and their families in the process.
Since 2005 Elvis & Kresse have been rescuing raw materials from landfill, transforming them into luxury lifestyle accessories through world-class craftsmanship and donating 50% of their profits back to charities. For over a decade none of London's fire-hose has gone to landfill and over 170 tons of material has been reclaimed thanks to Elvis & Kresse.
M WOVEN is the brainchild of fashion designer Martina Spetlova, who's scientific background influences her uniquely experimental approach to design. Alongside her uncompromising design aesthetic, Martina is committed to sustainability and ethical sourcing throughout her supply chain. She partners with sustainable and organic suppliers, and her chrome-free leather is hand woven by Syrian artisan refugees in a women's social enterprise.
behno is a NYC-based handbag label whose mission is to redefine and bring sharp awareness to sustainability and ethics to fashion. The brand has implemented its own 'behno Standard' with manufacturing partners in India to revolutionise the way garment workers and artisans are treated, viewed, and employed.
Eden Diodati works with an extraordinary social cooperative of women who survived the Rwandan genocide. Employing centuries old artisanal heritage and craftsmanship, their skill, courage, fortitude and faith inspires Eden Diodati's creative direction, whilst challenging preconceptions; shifting paradigms with high-end collections that make stunningly intricate use of innovative materials and exotic influences.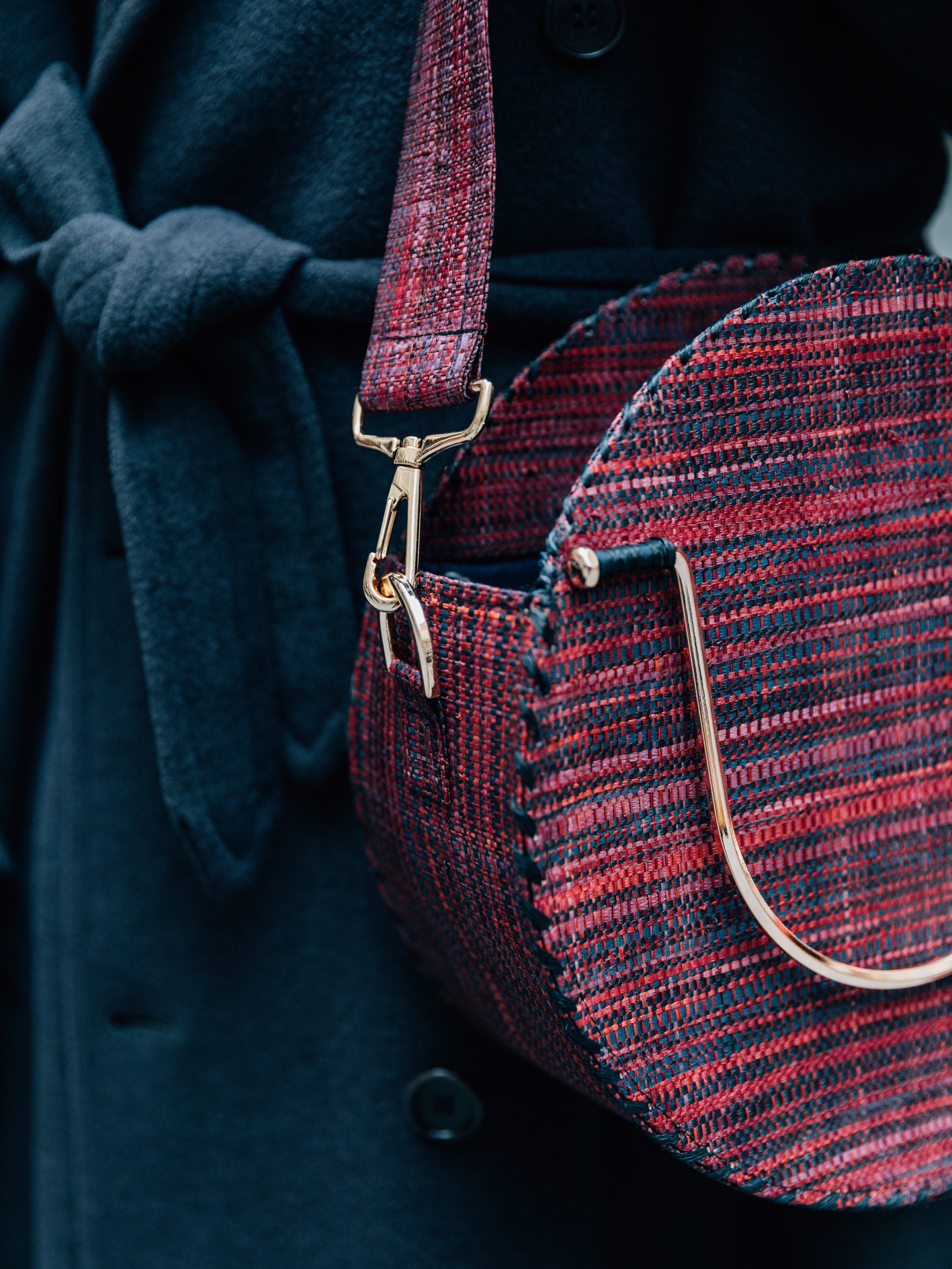 Good People is a high-end brand of artisanal handbags. They use natural fibres such as agave and raffia to develop their own handwoven fabrics. Good People run their own transparent manufacturing centre and workshop in Madagascar, where women artisans inspire and shape the designs of timeless, authentic and sophisticated collections.
SWEDISH STOCKINGS, Sweden
A forerunner in sustainably produced nylon stockings, Swedish Stockings produce beautiful pantyhose from recycled yarn. Their mission is to radically change and influence the hosiery industry - one in which 2 billion pairs of stockings are produced, worn a few times, and discarded each year.